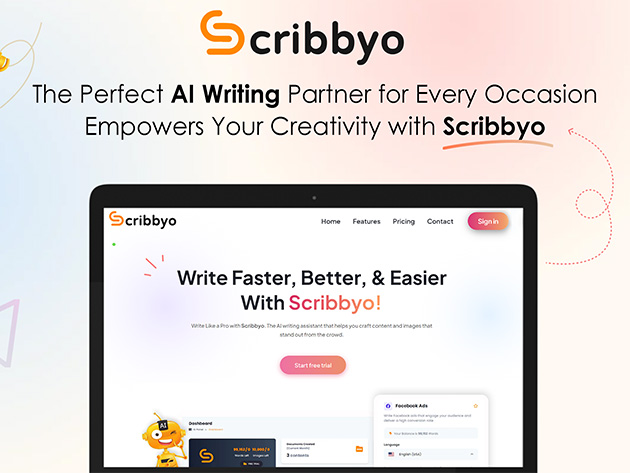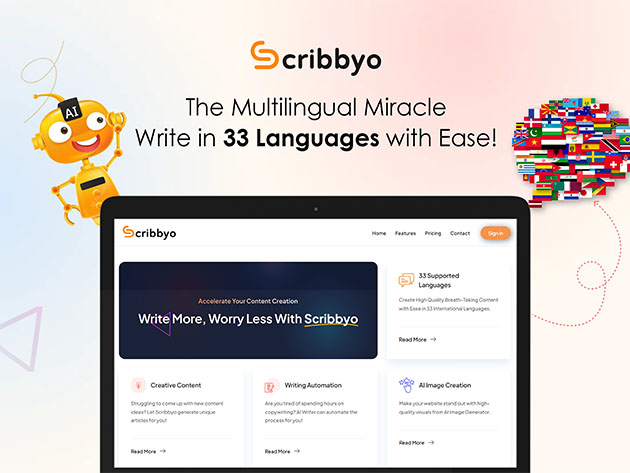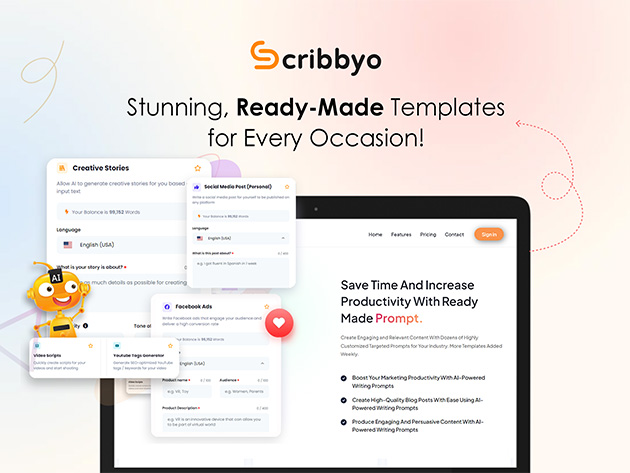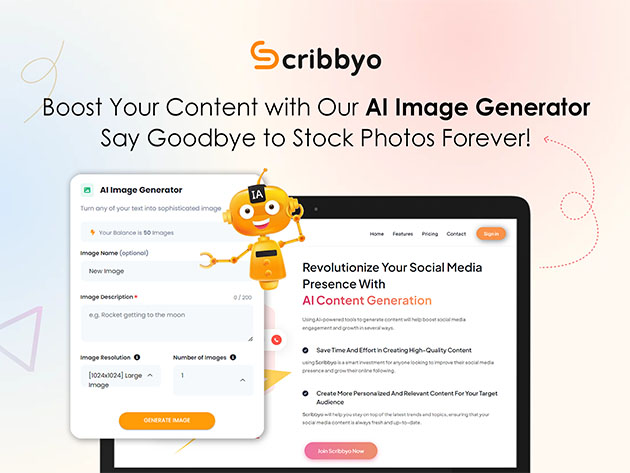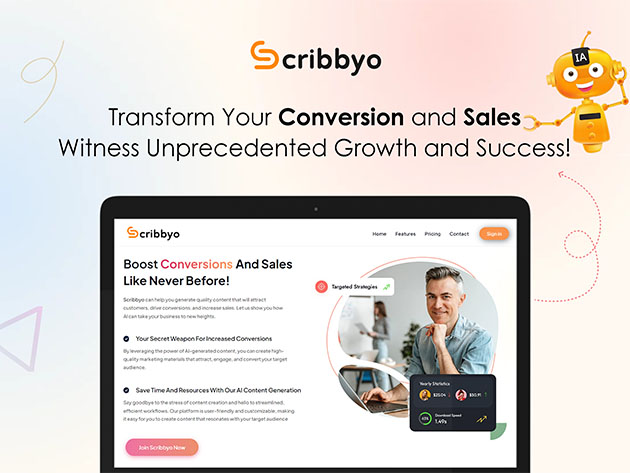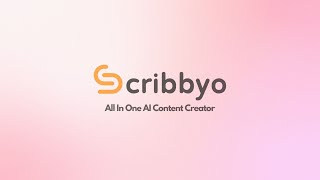 Scribbyo AI: Lifetime Subscription (Silver: 500K Words & 500 Images/Year)
by Scribbyo
Generate Breathtaking, Highly Engaging Content, Images & Even Code in 33 International Languages
Description
Are you exhausted from spending endless hours crafting content for your website or social media channels? Discover Scribbyo, the innovative AI content generator set to transform the way you produce content.

With Scribbyo, you can access 37 supported languages, enabling you to engage a broader audience and spread your content worldwide. Be it for your blog, website, or social media channels, Scribbyo has your back.

One of the main features of Scribbyo is its ability to produce imaginative content. AI creates top-quality, distinctive content that is bound to captivate your audience and keep them coming back for more. Scribbyo also provides AI image generation, supplying the perfect visual complement to your content. Beyond AI content and image creation, Scribbyo presents ready-made prompt templates for various use cases.

But there's more! Scribbyo now includes an AI voice over generator, enabling you to generate realistic human voices from any text in 140 accents & languages and 540 male & female voices. Additionally, the AI Transcription feature transcribes any audio and video to text with up to 99% accuracy and full punctuation. Lastly, the AI Chatbot allows you to create your prompt directly and generate content without any templates, unleashing the power of your imagination.

Scribbyo also boasts an AI code generator, letting you create custom programming code for your website or app. The AI technology generates top-notch code optimized for performance and security, saving you time and ensuring your website or app runs seamlessly.

Don't wait any longer - sign up for Scribbyo today and start creating high-quality, engaging content that will take your online presence to the next level.
4.8/5 customer ratings: ★ ★ ★ ★ ★ ★
37 supported languages. Effortlessly create stunning content in 33 international languages
Innovative content. Embrace engaging, thought-provoking content that captures your audience's attention
50+ templates. Quickly and easily create content, from blog posts to social media updates
AI code generator. Generate premium code optimized for performance & security in any programming language for your next app or web
Scribbyo All-in-One AI Suite
AI image creation. Distinguish your website with high-quality visuals
AI voice over generator. Generate lifelike human voices from any text in 140 accents & languages and 540 male & female voices
AI Transcription. Accurately transcribe audio and video to text with up to 99% accuracy and full punctuation
AI Chatbot. Develop content directly without templates, utilizing the boundless freedom of your imagination
Scribbyo: Silver Plan
50,000 words per month (Content & Chatbot)
30 images (1024/1024) per month
50,000 Characters per month (voice-over)
60 Minutes per month (Transcription)
AI Chatbot Enabled
37 supported languages (Content generator)
Tone of text control
Creativity control
Standard Templates (pre-built)
PRO Templates (pre-built)
Export in PDF, Word and Txt
Email Support



Reviews

Murchrish - "The Interface is Excellent"

★ ★ ★ ★

★

★

Trustspot - "Content Quality is Impressive"

★ ★ ★ ★

★

★

Workspace - "Best AI Content Generator"

★ ★ ★ ★ ★

Testimonials

Mark L
"Scribbyo has been a lifesaver for me as a blogger. With its AI content generator, I can create high-quality and engaging content in just a few minutes, without having to worry about the quality. I also love the AI image creation feature and the ready-made prompt templates that make my job so much easier. I would definitely recommend Scribbyo to anyone in the content creation industry!"

Clara M
"Scribbyo has been a huge time-saver for me as a social media marketer. With its AI content generator and image creation features, I can quickly create engaging content for all of my social media platforms. I also love that Scribbyo supports 33 languages, which has helped me reach a wider audience. I would highly recommend Scribbyo to any social media marketer out there."

John K
"Scribbyo has been an amazing tool for my eCommerce business. The AI content generator has helped me create high-quality and unique product descriptions for my website, while the AI image creation feature has allowed me to generate professional-looking product images in just a few clicks. The ready-made prompt templates have also been a huge help in creating marketing campaigns. If you're an eCommerce business owner, I highly recommend giving Scribbyo a try."
Specs
System Requirements
Important Details
Length of access: lifetime
Redemption deadline: redeem your code within 30 days of purchase
Access options: desktop or mobile
Max number of device(s): 999
Only available to new users
Version: 1.0
Updates included
Have questions on how digital purchases work? Learn more here
Terms
30-day return policy without using more than 3,000 words & 10 images