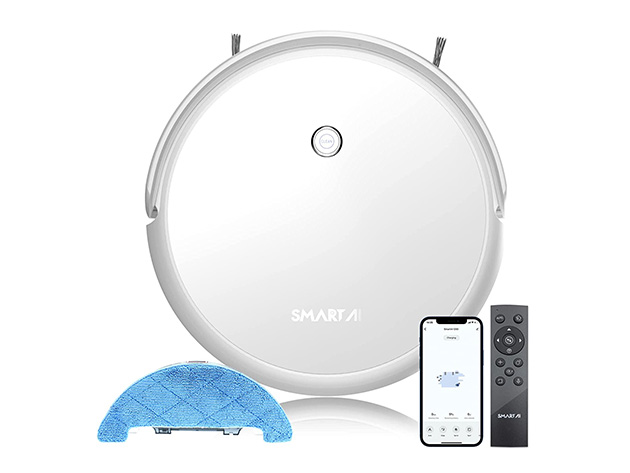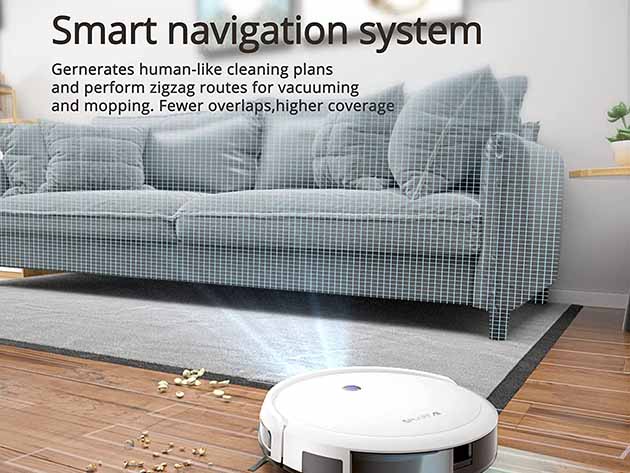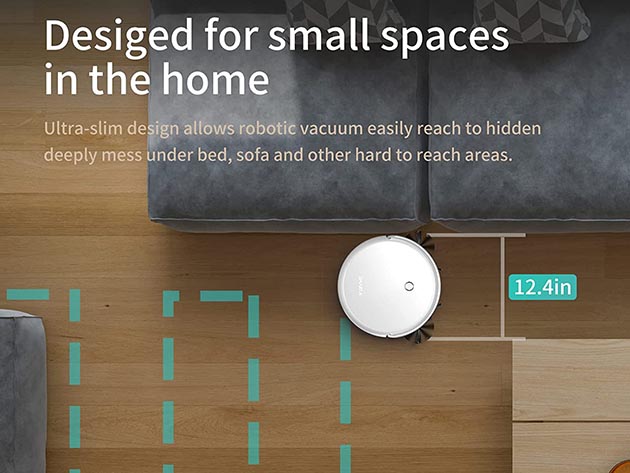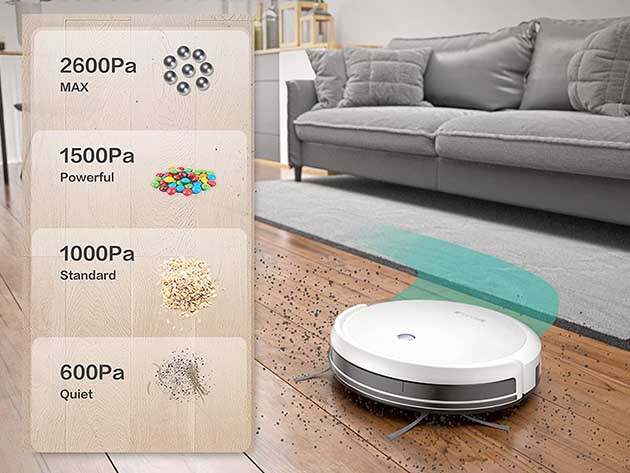 SmartAI G50 2600Pa Robot Vacuum & Mop Combo (White)
by SmartAI
Clean Your Floors Faster & Smarter with the G50's Smart Navigation, 2600Pa Suction & 3 Water Levels
Description
The SmartAI G50W Robot Vacuum is a newly designed robot vacuum cleaner for both carpet and hard floors. This robot vacuum cleans all types of flooring. The smart navigation system finds its way through the room effortlessly from obstacles like furniture, pets, or plants. It even knows when to return automatically to the dock where it was left off by itself to automatically charge once it reaches 20% of its battery life. Thanks to its amazing 2600Pa suction capacity it makes the unit powerful enough to pick up dirt and hair even in hard-to-reach places. It also includes a dustbin and water tank with built-in indicator lights that help you keep your house clean with ease.
2-in-1. Can be used as a mop or a vacuum cleaner
Up to 2600Pa. Cleaning modes from 600Pa (Quiet) to 2600Pa (Max)
510ml large dustbin. Easy to remove & clean; uses HEPA filter, extending dustbin capacity to 1-2 weeks
300ml intelligent water tank. 3 water levels for wood & tile floors, wet mopping without soaking floor
Smart navigation system. Generates human-like cleaning plans & performs zigzag routes for vacuuming & mopping
Auto-docking & resume. Automatically returns to the charging station once power level lowers to 20% to power up to 80% & automatically resumes cleaning
Ultra-slim design. Allows robotic vacuum to easily reach hidden mess under the bed, sofa, & other hard-to-reach areas
Long battery life. Up to 120 mins of cleaning time
2 charging methods. When power level is lower than 20%, recharge mode will be activated. When fully recharged, the vacuum robot will automatically continue the unfinished cleaning task
NOTE:
Customers must be 18 years old+ to purchase
Only support 2.4GHz WiFi with app connection
Good for low-pile carpets that are less than 0.6" thick; long-pile carpets DO NOT work
Keep robot vacuum away from wet areas, such as kitchen or bathroom
Please move to non-strong light and non-pure black ground to work
While your robot vacuum is cleaning, DO NOT pick it up and move it, or move the charging station
SmartAI Robot Vacuum has a real-time map so that you can check the cleaning coverage status, but the map cannot be saved
Please DO NOT use mopping function on the carpet. If you need to vacuum the carpet, remove the mop holder
It could only vacuum or mop separately and couldn't do it together
Specs
Specs
Model Name: G50 White
Color: white
Net Weight: 2.5kg
Gross Weight: 4.2kg
Size: 315*315*78mm
Built-in Battery: 2600mAh
Charging Time: 4 Hours
Battery Life: 90-120 min
Power(Adjustable): 2600Pa(3 levels)
Dustbin capacity: 510mL
Water tank capacity: 300mL
Brushless Motor: YES
Brushes: 1xLeft Brush, 1xRight Brush
Cleaning Area: 150 Square Meters
Forward collision infrared sensor, anti-collision: YES
Ground penetrating sensor: YES
Automatic refill: YES
Automatic cleaning: YES
Suction mop: YES
Manufacturer's 1-year warranty
Includes
1x SmartAI G50 2600Pa Robot Vacuum and Mop Combo (White)
1x Vacuum Robot
2x Side Brush
1x Power Adapter
1x Charge Dock
1x Remote Control
1x High-Efficiency HEPA filter
1x Dust Bin
1x Cleaning Tool
1x Water Tank
1x Mop Cloth
1x Multi-language User Instruction
2x AAA battery
Shipping
Ships to Contiguous US
Expected Delivery: Dec 4 - Dec 11
Terms
Free return for quality issue, or you need to pay for the return fee.