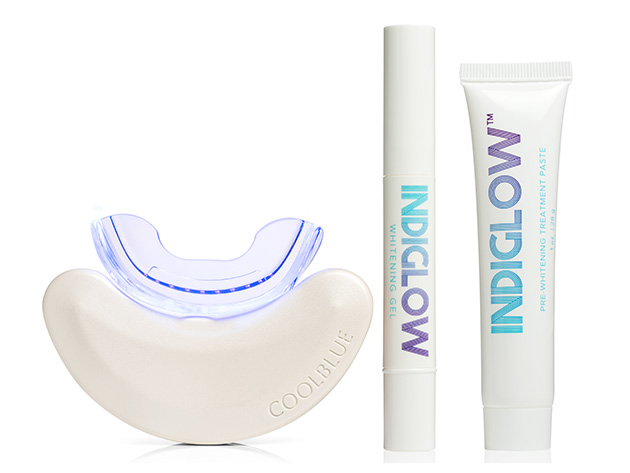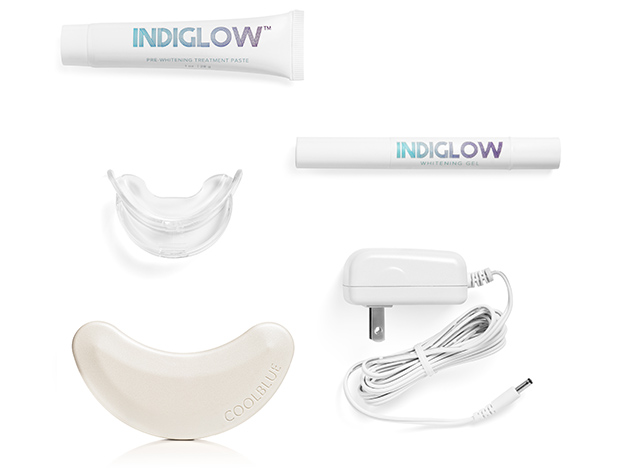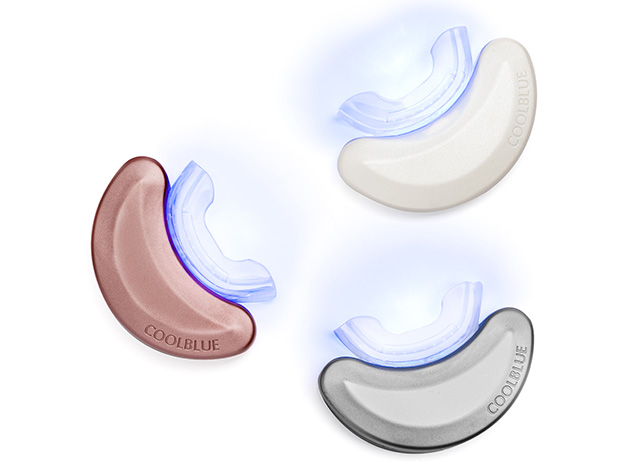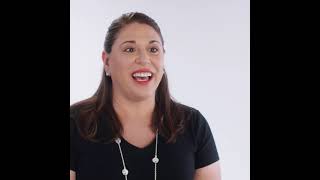 Intelliwhite Teeth Whitening System (Pearl)
by Intelliwhite Teeth Whitening System
Achieve Whiter, Healthier & Stronger Teeth At Home with This Set of COOLBLUE Light, Mouthpiece, INDIGLOW Whitening Gel and Pre-Whitening Treatment Paste
Description
Intelliwhite introduces cool blue™ Platinum teeth whitening light system. cool blue™ Platinum is a patent-pending, first-of-its-kind, dentist-quality at-home whitening system that is clinically shown to get you up to 12 shades whiter, in a minimum of 4 sessions. The chain reaction of pulsating light with the intelliWHiTE patent-pending Pre-Whitening Paste and Whitening Gel helps whiten teeth faster than any other at-home whitening method. The compact, rechargeable, hands-free light is designed to whiten upper and lower teeth simultaneously and helps to reach between teeth. Extremely safe with no heat or UV light. Safe for all dental work. This system comes with a cool blue™ PlatinumLight Mouthpiece, INDIGLOW Whitening Gel, andINDIGLOW Pre-whitening Treatment Paste. The Pre-Whitening Treatment Paste combined with the COOLBLUE Light allows the pH-neutral Whitening Gel containing 14% pure hydrogen peroxide to penetrate better and be more effective.


Teeth whitening system: COOLBLUE light, COOLBLUE mouthpiece, INDIGLOW whitening gel, INDIGLOW pre-whitening treatment paste, adapter
Pre-whitening treatment paste combined with the light mouthpiece allows whitening gel with 14% hydrogen peroxide to penetrate better & be more effective
4 sessions is recommended to achieve 12 shades whiter teeth
How to Use
Squeeze a small, pearl-size amount of Pre-Whitening Treatment Paste onto the toothbrush
Dry front surface of teeth with a tissue
In circular motion brush teeth moving from tooth to tooth, do not spit out excess – do not rinse
Make a wide smile and apply a thin layer of INDIGLOW™ Whitening Gel on teeth staying away from the gum tissue.
Insert the mouthpiece of light into the mouth, the purple power button should be facing up. Make sure teeth are firmly pressed against the mouthpiece, bite down on the mouthpiece to hold firmly in place
Turn light on. Light will stay on for 10 minutes
Remove Light from the mouth and spit out any residue
Clean mouthpiece using a damp cloth or with toothbrush and toothpaste, and wipe clean with a damp cloth
Repeat if desired. Otherwise, do not eat or drink for 20 minutes
Specs
Specs
COOLBLUE Light

Color: pearl white
Materials: plastic
Dimensions: 3.5"H x 1.5"L x 0.60"W
Weight: 0.75 oz
Light source: LED
Light spectrum: blue
Remove stains

COOLBLUE Mouthpiece

Color: clear
Materials: plastic
Dimensions: 3"W x 1.5"L x 0.60"W
Weight: 0.75 oz

INDIGLOW Whitening Gel

Color: clear
Ingredients: Propylene Glycol, Purified Water, Glycerin, Hydrogen Peroxide, Triethanolamine, Carbomer, Xylitol, Flavor, Potassium Nitrate
Size: 0.12 fl.oz
Hydrogen peroxide content: 14%

INDIGLOW Pre-whitening Treatment Paste

Color: white
Ingredients: Sodium Bicarbonate, Glycerin, Water, Xylitol, Bentonite, Zinc Oxide, Xanthan Gum, Sucralose, PVP, Potassium Sorbate, Sodium Benzoate, Stevia, Mentha Viridis (Spearmint) Leaf Oil, Disodium EDTA, Silica, Magnesium Gluconate
Size: 1 oz

Powerful whitening system
Better penetration
More effective
Includes
COOLBLUE Light (Pearl White)
COOBLUE Mouthpiece
INDIGLOW Pre-Whitening Treatment Paste
INDIGLOW Whitening Gel
Adapter
User Guide
One Year Warranty
Shipping
Ships to Contiguous US
Expected Delivery: Dec 19 - Dec 24
Terms
Returns accepted within 30 days of shipment for orders within the Contiguous US.