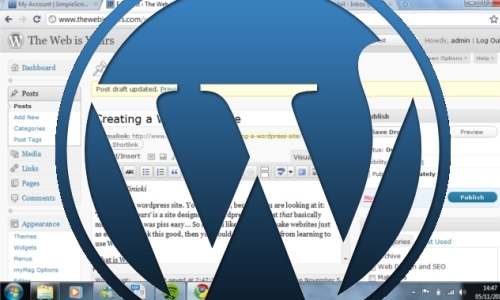 by Udemy
Learn How to Create Profitable WP Sites
Description
Learn the Secrets of Building a Killer WordPress Site
If you haven't heard of WordPress, uhhh...welcome to the Interweb's my friend! WordPress is a tool that has helped entrepreneurs, bloggers, and businesses create over 70 million websites! You can build and create an online presence in no time flat. So, what do you need the "Insider Secrets" for? Because it's really freakin' hard to build a site using WordPress that will actually ATTRACT users! Using WordPress doesn't involve coding a site from scratch – that's the beauty of it. But the issue is knowing where to start. Save yourself the time and frustration of researching how to use WordPress. Miguel Hernandez (that charismatic guy who founded Grumo Media) is going to teach you everything you need to know to get a website up and running in a matter of hours, and more importantly is going to show you how to attract visitors so your bank roll can stack up once your site sees daylight.

Here's The Deal:
For ONLY $79 this video course will end up SAVING you thousands of dollars so if you don't have that MUST-HAVE website up and running yet, please consider it for the health of your business.

With This Video Course You'll Learn:
Step 1: Build the Site
• How to get a domain: 3 tricks to find great available domain names for your website and 1 cool trick to always pay less for them than anyone else • How to get web hosting: find affordable web hosting providers and learn your way around their admin panels • How to install WordPress: how to install WordPress via FTP or with 1-Click installs from your webhost. • How to make your first post: Give it a title, HTML vs Visual view • Categories vs Tags: what are they and how to use them to best organize your content • Learn to use Pages vs Posts: Learn to use pages and posts the right way • How to upload a picture: Learn to resize and upload pictures to your blog • How to insert a video: Uploading and embedding videos using YouTube and Vimeo • How to change the look with themes: where to find great free themes for free and install them • Best places to hire an affordable designer: a couple of places to hire the best designers for peanuts • How to enhance your site using free plugins: learn to install and manage plugins to make your site faster and more reliable • How to track traffic to your site: Use JetPack and Google Analytics to track everything about your visitors • How rank high on search results: Learn basic search engine optimization and social media techniques to increase those juicy visits really fast
Step 2: Get Traffic!
Miguel devotes 8 whole chapters to teach you how to get your site noticed, promoted, and loved by the world so your business can THRIVE. It's all a numbers game. The more visitors your site gets, the more money you'll make, plain and simple. But wait, there's more...

As a Bonus Miguel Will:
• Let you peak inside his own website's traffic stats and explain them • How to install a live chat to talk to visitors in real time • How to install a cool rotating ad banner to showcase your main products • How to create a good looking Facebook page widget for your site to increase your followers • How to set up a free Newsletter to keep in touch with your audience and generate more leads • And to top it all off, he'll even serenade you with the first WordPress song ever, composed and horribly sang from him to you :).

Course Layout: 51 Lectures in HD Video - Over 4 Hours of Instruction:
• Chapter 1: Introduction • Chapter 2: Domain Name • Chapter 3: Web Host • Chapter 4: Installing WordPress • Chapter 5: WordPress Basics • Chapter 6: Tracking Visitors • Chapter 7: How to Get Traffic to Your Site • Chapter 8: Enhancing WordPress • Chapter 9: Setting Up A Newsletter • Chapter 10: Using The Featured Image • Chapter 11: Final Review

Meet Your Instructor – Miguel Hernandez!
Miguel Hernandez is the CEO of Grumo Media which he founded in October 2010. Miguel has over 10 years of experience in multimedia production and has created promotional videos for clients like Hipmunk, inDinero, Ashton Kutcher, Faronics, VideoGenie, Buy4.com, Olo.com, and many more. Miguel's many passions have taken him from his original love for mechanical engineering, to 3D animator, all the way to music video director, and web application developer.

Our Guarantee!
You have 30 days from your purchase date to figure out if this course is the right fit for you. If it's not, we'll refund your every penny.

How Long Can You Access Your Online Lectures?
You can view and review the lecture materials from your Udemy account INDEFINITELY, like an on-demand channel. And once you're all signed up for the course you can always shoot any questions you have over to Miguel and we're sure he'd be happy to personally help you out.
Terms
Unredeemed licenses can be returned for store credit within 30 days of purchase. Once your license is redeemed, all sales are final.