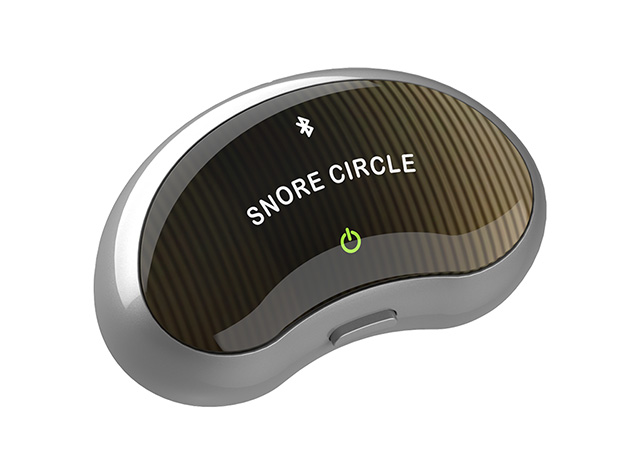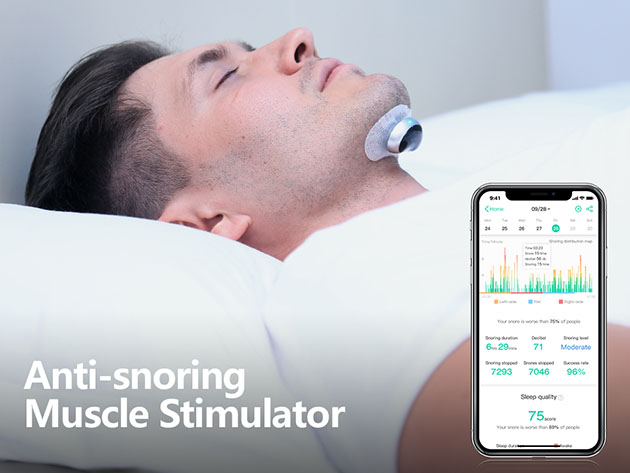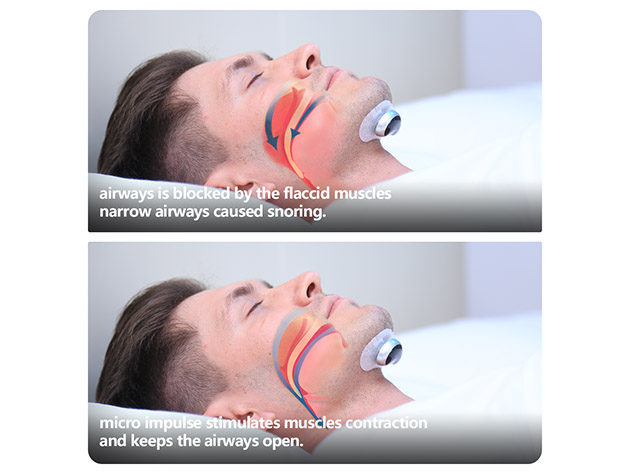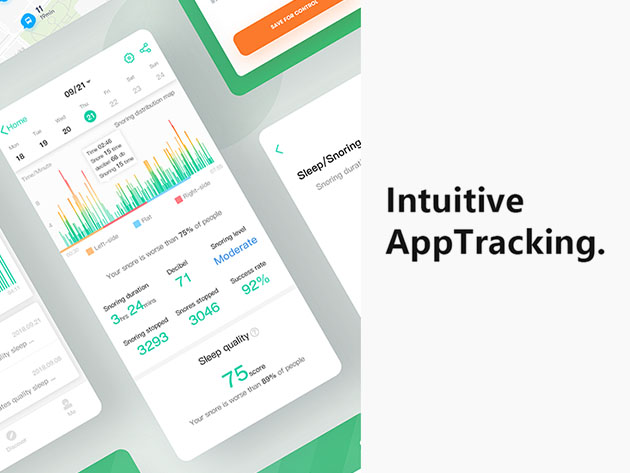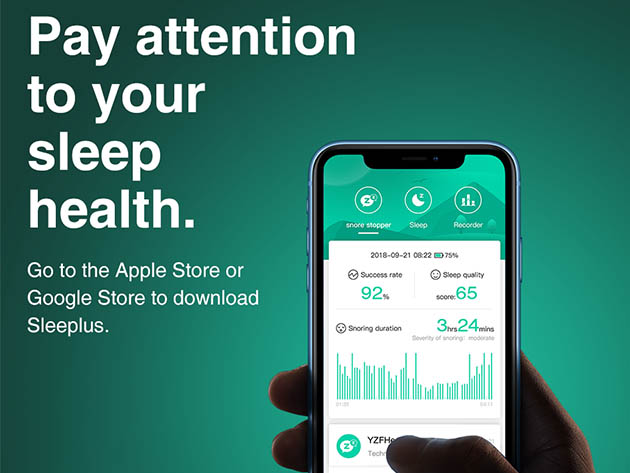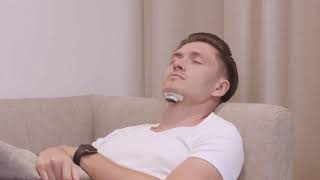 Snore Circle YA4200 Electronic Muscle Stimulator Plus
by Snore Circle
Eliminate Snoring & Sleep Quietly with This Gadget's High-Precision Sensor and 30 Intensity Levels
Description
Say goodbye to snoring that keeps your partner awake and leaves you exhausted the next day! When you sleep your throat, tongue, and jaw all relax, this can narrow your throat's airway so that when you breathe in, the soft tissue around your throat vibrates causing that awful snoring sound. Snore Circle solves that by safely stimulating the muscles under the chin using EMS+TENS technology for fast, effective relief.

Equipped with a high-precision sensor and patented intelligent algorithm, after detecting snoring, Snore Circle will emit a small, harmless electrical current to stimulate the nerves under the chin. This will tighten the muscles around the throat and open up an airway to make you stop snoring and sleep quietly.

Up to 30 different intensity levels are available for different levels of snoring. By using just the right amount of stimulation on your throat muscles without disturbing your sleep, you wake up feeling better rested and with more energy to make it through the day.
EMS+TENS. Emits a small, harmless electrical current to stimulate the nerves under the chin & open up your airway
30 intensity levels. Just the right amount of stimulation on your throat
Conductive stripe. Special grade patch, high viscosity; not easy to fall off, disposable use
Magnetic charging. Takes only 2 hours to fully charge; provides enough power for at least one whole night
Snore Circle app. Records all sleeping activities, monitors the amount of times that you snore, assesses the intensity of the snoring, & more for analysis
Sleeplus app. Turn on your phone's Bluetooth, guide the Settings as prompted, & personalize your Settings in the app
How It Works
Before wearing the device, please shave any stubble on the chin and throat to ensure that the treatment area is clean and dry
Align the groove of the gel patch with your throat, and apply with both hands under the chin; make sure the stripe is fully attached to the skin and prevents it from falling off
Turn on the product and connect it to the conductive strip
Connect to the app via Bluetooth, synchronize data, and view the sleep quality analysis report the very next day
Specs
Specs
Color: black, gold
Materials: ABS+PC
Model: YA4200
Dimensions: 1.01" x 1.61" x 0.59"
Weight: 11.6g
Battery capacity: 3.8V/130mAh
Pulse frequency: 10Hz-1,500Hz
Run time: more than 15 hours
Intensity levels: 30
Compatibility
iOS 9.0 or later
Android 4.3 or later
Includes
1x Main Component
1x Charging Dock
1x Charging Cable
10x Electrodes
1x Quick Start Guide
1x User Manual
Shipping
Ships to Contiguous US
Expected Delivery: Dec 19 - Dec 29