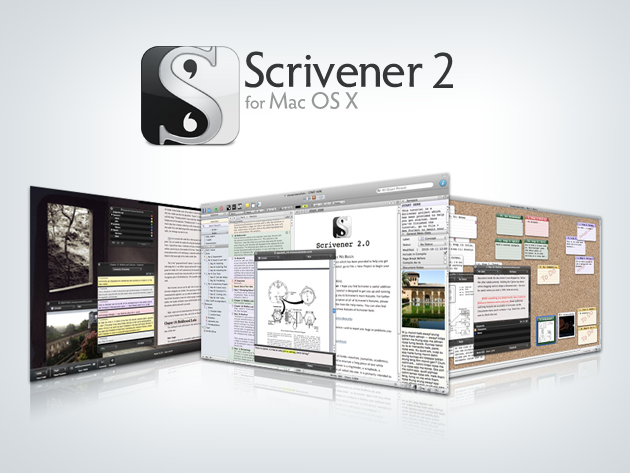 Scrivener 2: Best Of The Mac App Store 2011
by Literature + Latte
A Complete Writing Studio Used By New York Times Best-Selling Authors
Description
MORE THAN MICROSOFT WORD
Ever tried writing a novel in Microsoft Word? Trust us, you don't want to. That's why
writing professionals
around the world use
Scrivener
: it's a word processor and project management tool that stays with you from your first, unformed idea all the way through to the final draft. As you're writing, outline your ideas, take notes, and view research all at once. Scrivener takes all the tools you have scattered around your desk and makes them available in
one application
.
WHY YOU'LL LOVE IT
Scrivener is a
winner of two Macworld Eddy Awards
, and has received great reviews from many industry magazines including MacFormat, Macworld, MacUser, MacLife and more. It's also being
used by countless professionals
– New York Times Best-Selling novelists, screenwriters, university professors, editors and journalists – who rely on their writing skills every day.
TOP FEATURES
Edit Multiple Documents - "Scrivenings" mode temporarily combines individual documents into a single text, allowing you to view and edit different sections of your manuscript in isolation or as a whole
Snapshots - Taking a "snapshot" of a document allows you to edit and rewrite in the confidence that you can restore an earlier revision at any time
Corkboard - Virtual index cards store a synopsis for every document you create, so you can storyboard and rearrange your project
Outlining - A fully-featured outliner helps you take control of the structure of your work
Scriptwriting - Switch to scriptwriting mode for automatic screen or stage play formatting—or set up your own script formats—then export to a dedicated scriptwriting program such as Final Draft
QuickReference Panes - Load research documents or notes into floating windows for limitless access to reference material, even in full-screen mode
Sync - Synchronize the text of your project with many popular mobile applications for the iPad and iPhone
THE PROOF
Best of Mac App Store - 2011
Winner of a 2007 & 2010 Macworld Editor's Choice Award
"Verdict: Far and away the best application available for long-form writing—on any platform." - (5/5)
Mac Format
"Scrivener is one of the finds of the last ten years." -
Jason Snell, Editorial Director of Macworld
"Just wanted to say that after taking the plunge and using Scrivener in earnest for my current book, it's proved to be a godsend... This is what working writers need - it does the core stuff well, and doesn't force extra functions down your throat unless you want them..." -
Karen Traviss, Lead Writer for Gears of War 3 and a #1 NYT best-selling novelist
"Before I discovered Scrivener I used index cards and thumb tacks to find the narrative arc of a piece... Now everything's in one place on my computer, linked and intuitively accessible..." -
Janine Latus, NYT best-selling author & board member of the American Society of Journalists and Authors
WHAT YOU'LL NEED
OS: OS X 10.6 (Snow Leopard) or above
Fully compatible with OS X 10.9 (Mavericks)
Intel Only: An Intel-based Mac is required
Scrivener integrates with Mac OS X to support all languages, with Scrivener's interface being available in English, German, Spanish and French
LICENSE DETAILS
How many computers can you activate software with? - Scrivener comes with a generous "household" license. This allows you to install Scrivener on multiple Mac computers provided that you are the primary user or owner, and on any machines owned by members of your immediate family residing in your household.
When does license need to be redeemed by? - By December 31st, 2014
What version is it? - 2.5, includes updates for versions 2.x
Terms
Instant digital download
Limit two (2) per customer
All prices are in US Dollars (USD)