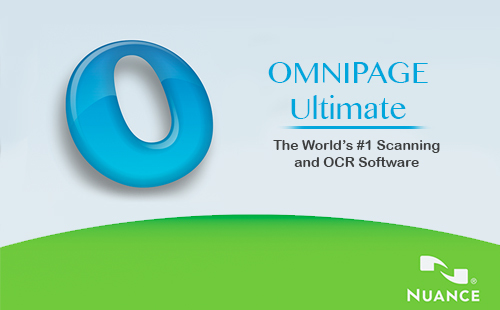 by Nuance
The World's #1 Scanning & OCR Software
Description
Please note: this promotion is valid for PC users only.
Don't Convert Documents, Transform Them!
How can you manipulate document into your desired format without having to do extensive re-typing or re-editing? OmniPage Ultimate! This innovative solution transforms papers, forms, and PDF files into documents you can easily share, edit, or archive. Amazing accuracy, universal compatibility for scanners, detailed customization, and automatic document routing make OmniPage the perfect choice to maximize productivity and enhance organization. Simply put, OmniPage is the all-in-one solution for professional document management.
Why We Love it
The recognition capability of OmniPage Ultimate is unparalleled. We have scanned poor quality FAX files and PDF image files with clarity and the software couldn't be easier to use. Because of OmniPage's ease of use and reliability, it can be indispensable part of any office. Nuance provides some of the most powerful software on the net and we couldn't be happier to provide OmniPage at such a significant discount.
Superior OCR Accuracy
Edit Directly within PDF Files
Improved OCR engines deliver amazing accuracy for document conversion and archiving business critical documents.
Maintain Perfect Formatting
Converted documents look exactly like the original and are easier to edit than ever before, complete with columns, tables, bullets and graphics.
Mobile Document Capture
Capture text with a digital camera or iPhone®. Quickly convert your pictures to text documents with Nuance's most accurate 3D Correction technology available.
Works With Any Scanner
If your device can scan then it can work with OmniPage. Mobile scanners, desktop scanners, All-in-one and Multi-function printers all work more productively and with better accuracy using OmniPage.
Supports All Your Favorite Applications
Supports the widest range of output formats including PDF, HTML, Corel® WordPerfect®, Microsoft® Word, Excel® and PowerPoint® (pptx) plus many more formats.
Convert documents in the cloud
Convert documents stored in Windows Live SkyDrive, GoogleDocs, Evernote, Dropbox, and many more. Includes the Nuance Cloud Connector powered by Gladinet.
Batch Processing, Amazing Value
Schedule large volumes of files for batch processing from folders or email with unattended automation for real time processing of documents.
Complete Forms Processing
Convert paper forms to fillable and distribute electronically. OmniPage can collect data from PDF or paper forms and export to a spreadsheet or database.
Built-in Automatic Redaction & Highlight
Redact or black out confidential text or quickly locate information with highlights. OmniPage can recognize and automatically mark up your text based on a list of key words.
Recognizes Over 120 Languages
Process, edit and store documents from anywhere in the world. OmniPage includes the recognition of languages based on the Latin-, Greek- and Cyrillic alphabets as well as Chinese, Japanese and Korean languages.
System Requirements
Windows 8 32-bit or 64-bit Editions, Windows 7 32-bit or 64-bit Editions, Windows XP 32-bit Edition with Service Pack 3.
A computer with a 1 GHz Intel® Pentium® or higher, or equivalent processor.
1 GB of memory (RAM), 2 GB recommended.
WIA, TWAIN or ISIS scanner driver.
2.7 GB of free hard drive space
Languages
English, French, German, Italian, & Spanish
Important Reminders!
Software is downloadable
Upon purchase you must follow the redemption instructions located in your account to redeem and activate your software
Software includes all minor upgrades
Terms
Windows 8 32-bit or 64-bit Editions, Windows 7 32-bit or 64-bit Editions, Windows XP 32-bit Edition with Service Pack 3.
A computer with a 1 GHz Intel® Pentium® or higher, or equivalent processor.
1 GB of memory (RAM), 2 GB recommended.
WIA, TWAIN or ISIS scanner driver.
2.7 GB of free hard drive space