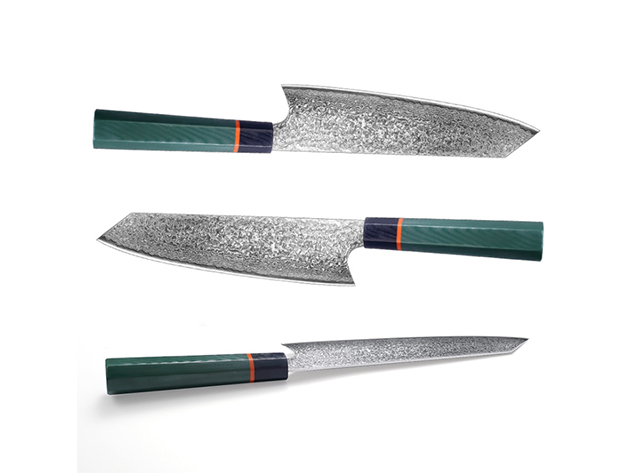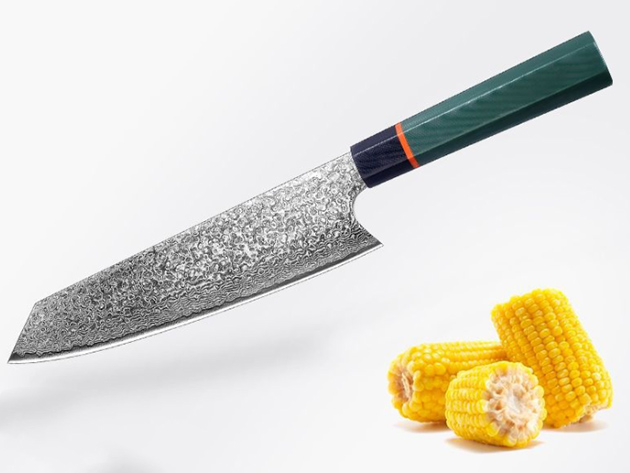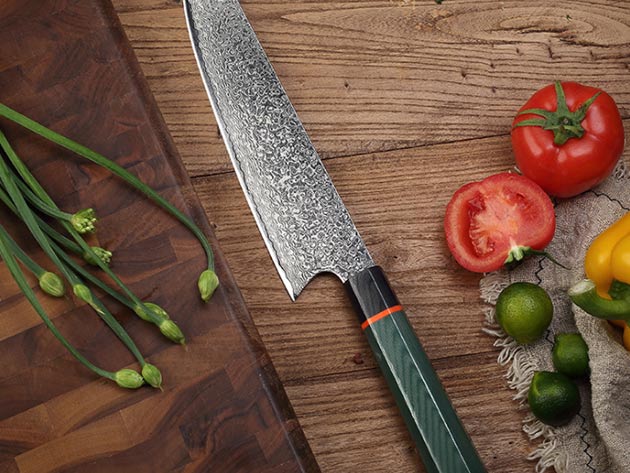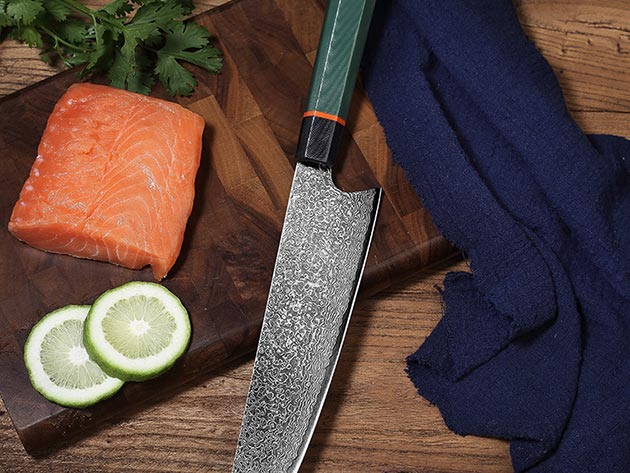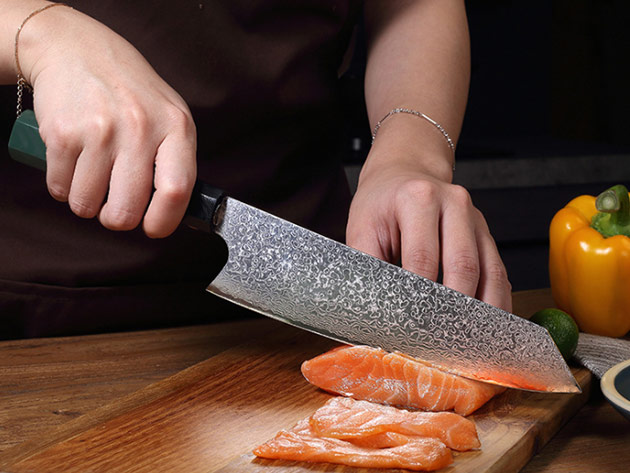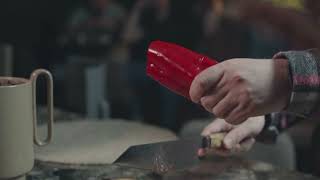 Kiru Knife™ Original (Kosei-Teki Edition) Kirisuke 8" All-Round Knife
by Kiru Knife
Add Sophistication & Function to Your Kitchen with This Knife's Ruthless Blade and Octagonal Handle
Description
The Kiru Knife Original is a multipurpose traditional Japanese blade that can be used for all purposes of cutting in the kitchen. From us as a Yanagi (fish slicer) to an Usuba(vegetable knife), the Kiru Knife Original is perfectly suited. A very versatile knife that can be used to perform many of the tasks normally done with a Gyuto (Chef's knife).
Lightweight, double bevel edge. Perform many of the tasks normally done with a chef's knife
Versatile. Rock & chop and do all cutting styles
Traditional Japanese Honbazuke method. Sharpened & polished by hand in 3 stages
Precision-forged blades. With an ultra-premium imported Japanese VG10 cutting core at 60±1 Rockwell hardness for unrivalled performance & incredible edge-retention
67 layers of high-carbon stainless steel cladding. Provide exceptional strength, durability & stain resistance
Ruthlessly sharp. Scalpel-like edge is hand finished to a mirror-polish within a staggering 8-12°
Nitrogen-cooled. For enhanced hardness, flexibility, & corrosion resistance
Feather blade pattern. For striking, stand-out beauty
Precisely tapered blade. Minimizes surface resistance for a buttery smooth cutting motion
Bolster. Provides a perfectly-engineered balance & gently encourages a comfortable and proper pinch grip
G-10 Garolite handle. Highly impervious to heat, cold, & moisture with military-grade strength and life-long durability
Ergonomic handle. For superior hand control, agility, & comfort
Forged with imported VG-10 stainless steel - for the core blade material and 66 layers of Damascus Steel Kiru Knife blade will last a lifetime! The Octagonal Handle is made from maple wood, which is chemically stabilized and clouded green resin to give a unique and powerful look to the handle.
The Kiru Knife Original offers the user a solid all-around kitchen knife that will last a lifetime and never let the user down. Truly a kitchen knife the material of legends.
Note: Customers must be 18 years old+ to purchase
Specs
Specs
Size: 8"
Blade

Japanese VG10 cutting core
Rockwell hardness: 60±1

Cladding: 67-layer high-carbon stainless steel
Edge: 8-12° angle
Hand-sharpened
Handle

Meticulously-constructed, ultra-premium G-10 Garolite handle
Octagonal
Made from maple wood
Military-grade strength
Life-long durability

Includes

Kiru Knife™ Original (Kosei-Teki Edition) Kirisuke 8" All-Round Knife
Shipping
Ships to US
Expected Delivery: Dec 9 - Dec 23