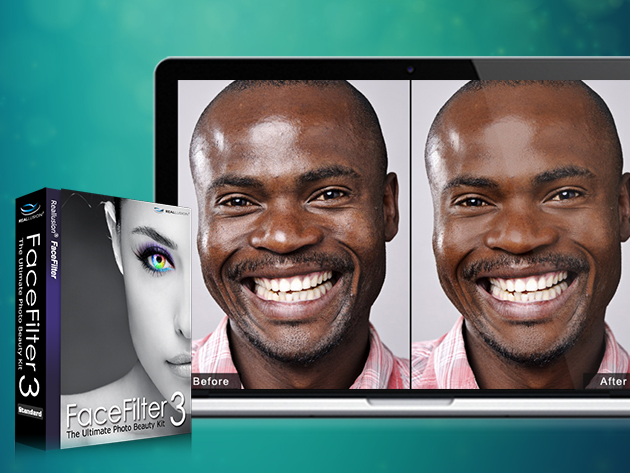 FaceFilter3: Versatile 1-Click Photo Retouching
by Reallusion, Inc.
Use Powerful Tools To Re-Touch Your Photos So You Can Always Look Your Best
Description
LOOK YOUR BEST IN EVERY PHOTO
This
versatile photo retouching and beautifying toolkit
makes it easy to apply natural skin smoothing and blemish removal tools, or—if you're feeling creative—go all out with the comprehensive multi-layer makeup system to really make your features pop. And once your done beautifying the subjects of your images, take your photos to the next level with
a variety of morphing tools and DSLR post-effects.
WHY YOU'LL LOVE IT
As photo-editing software goes, the editing environment in FaceFilter 3 is one of the easiest to use. If you use one of the included makeup templates, applying effects is
as easy as clicking a button.
FaceFilter3 includes templates that fit any photo-editing need. From adding party makeup or a natural tan to anti-aging effects and face slimming, FaceFilter3 has you covered and will insure that your images look DSLR quality without the need for a professional camera.
TOP FEATURES
Simple UI Editing Environment.
Flawless Complexion - Smooth skin texture and tone and highlight natural contours of the face.
Makeup Templates - Makeup artist-inspired cosmetic system with over 400 templates and up to 20 masking layers to achieve ultimate photorealism.
Morph Face Shape + Expression - Use FaceFilter3's proprietary 3D muscle-based facial transformation technology to alter unappealing expressions, improving face structure, or simply slim it down.
DSLR & Lens Effects - Color correction, white balance adjustment, lens filters, focal adjustment, and bokeh effects bring professional quality to your photos.
BEFORE & AFTER
COLOR CORRECTION
BOKEH EFFECTS
THE PROOF
"If you're serious about portrait photography and need something more to help boost your images, then FaceFilter3 software should go to the top of your shopping list. " -
Photoshop Creative
"A very effective product that makes light work of enhancing an image." –
micromart
"It is not just celebrities who can benefit from a digital make-over. Now you can use a software package to tidy up your own image." –
Gadget Speak
SYSTEM REQUIREMENTS & LANGUAGES
OS: OS X 10.7 or later
Processor: Intel Core i5 CPU or higher
RAM: 8 GB or higher recommended
Hard Disk Space: 4 GB free or higher recommended
Display Resolution: 1024 x 768 or higher
Video Memory: 256 MB RAM or higher recommended
Terms
All sales are final
Instant digital download
The listed deal price is in US Dollars (USD)