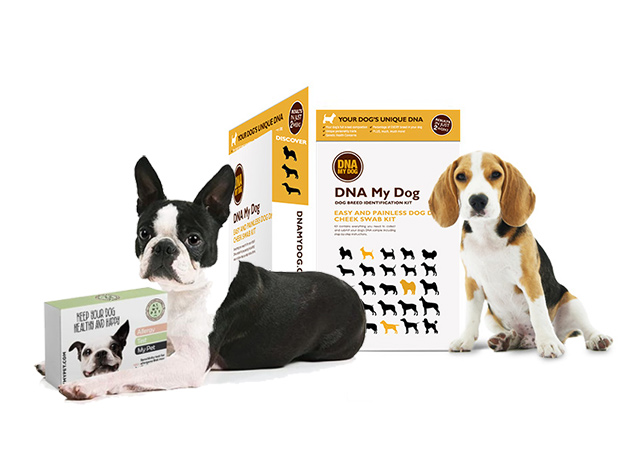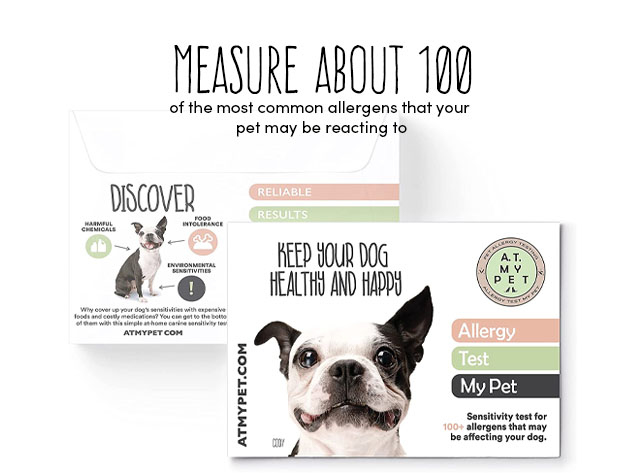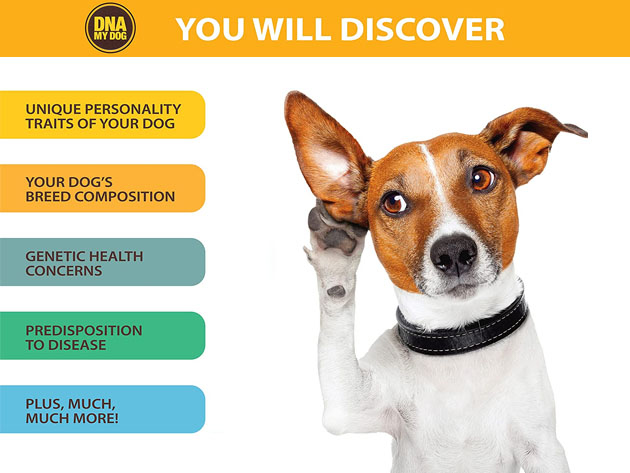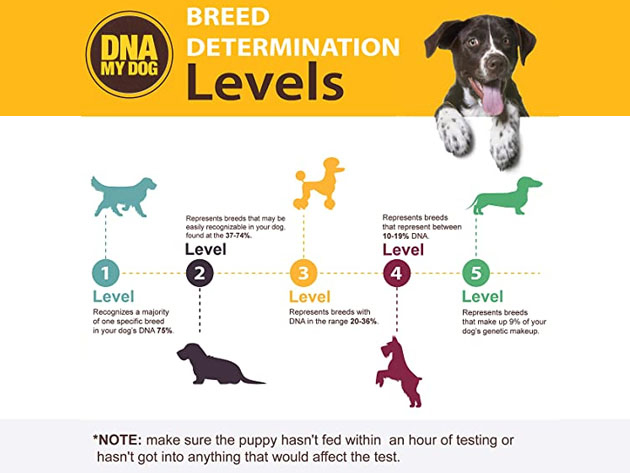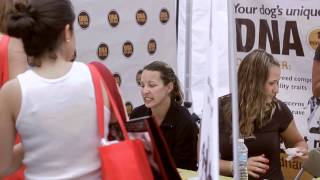 DNA My Dog Breed Identification Test & Allergy Test My Pet Kit Bundle
by DNA My Dog
Get to Know Your Dog Even Better with This Pet-Friendly Allergy & DNA Test Kit Bundle
Description
DNA My Dog Breed Identification Test
Meet the easy and painless dog DNA cheek swab kit that will help you understand your favorite four-legged friend on a whole new level. Simply swab your dog's cheek, mail in the DNA sample, and in two weeks or less you'll get detailed reports breaking down your dog's unique characteristics: personality traits, DNA composition, breed mix, predisposition to disease, and much more. Sample collection is fast, easy, and painless.
GHP Biotechnology Awards 2020 - Leaders in Ethical Canine Genetic Testing
Get your dog's swab in just a minute; fast, easy & painless
Get a full report emailed to you in two weeks or less of DNA My Dog receiving your sample
Understand the exact composition of your dog's unique DNA & your dog's exact breed mix
Discover your dog's unique personality traits
Uncover your dog's genetic health concerns & risk for certain diseases
Check the supported dog breeds list here
How It Works
Swab your pet's cheeks with the provided sterile applicator
Send in the sample with the return mailing envelope
Wait for the results. The results should be emailed to you in two weeks or less
Results
A custom photo certificate of the breed's found in your dog's genetic breed composition
A percentage breakdown of the levels found in your dog's unique DNA. Exact percentages are available upon request. Please email contact@dnamydog.com and provide your customer ID so merchant can access your account.
A report on dominant breeds, personality traits and health concerns
Allergy Test My Pet Kit
Itchy skin, upset stomachs, and other uncomfortable conditions are often caused by sensitivities to food and environmental factors your pet comes in contact with, usually resulting in pricey trips to the vet. Allergy Test My Pet was designed as an affordable and easy-to-use pet sensitivity test to help you discover the factors that may be negatively affecting your pet's wellness.

Allergy Test My Pet was developed from the ground up to measure about 100 of the most common allergens that your pet may be reacting to. By measuring the proteins found in your dog's sample, this test can report for more than 100 items that may be affecting your dog. Dealing with your dog's allergies and difficult, and this cost-effective kit will help you and your dog on the path to greater wellness.

Discover:
Your dog's unique intolerances & sensitivities for around 100 factors
The common household & environmental factors affecting your pet's wellbeing
Which foods you should avoid — and which may be safe — in your pet's diet
Food & environmental allergens to keep an eye on.
Plus, much, much more!
Your Results Include:
A custom analysis of around 100 food and environmental items that your pet may have sensitivities to
A list of foods and household products you should avoid including laundry and cleaning products, tobacco, and other household items
PLUS so much more!
Important Details
Materials: Bubble wrap, Paper, saliva collection device with non-toxic buffer
Note: Allergy Test My Pet Kit is for dogs only
Your dog must not be on any antihistamines, apoquel or steroid-based medications a minimum of one week and up to 2 weeks before taking your sample or it will affect your results
This test is NOT recommended for dog's under 1 year of age due to the variance in their physiological system
NOTE: Resale of these products is prohibited.
Specs
Includes
1x DNA My Dog Breed Identification Test Kit

Order form with customer ID and instructions
Sample collection envelope
Return mailing envelope
Puritan sterile swabs

1x Allergy Test My Pet Kit
Shipping
Ships to US
Expected Delivery: Oct 3 - Oct 12
Terms
Returns accepted within 30 days of shipment for orders within the Contiguous US.