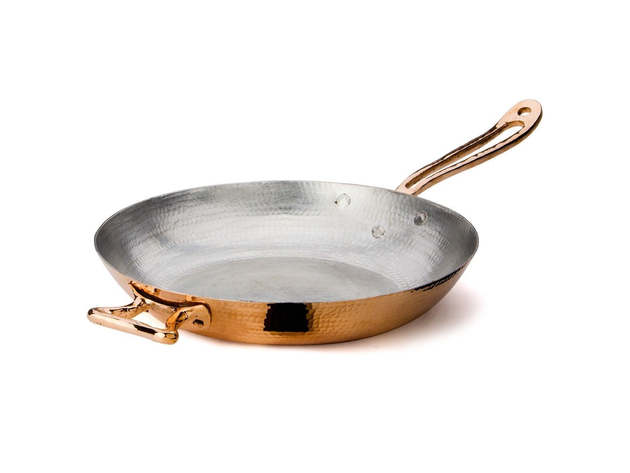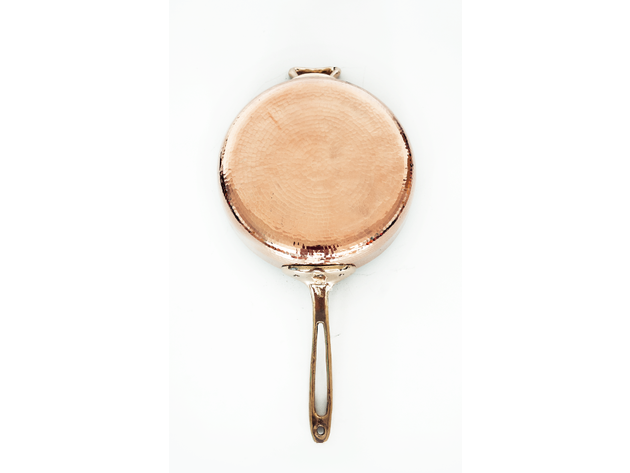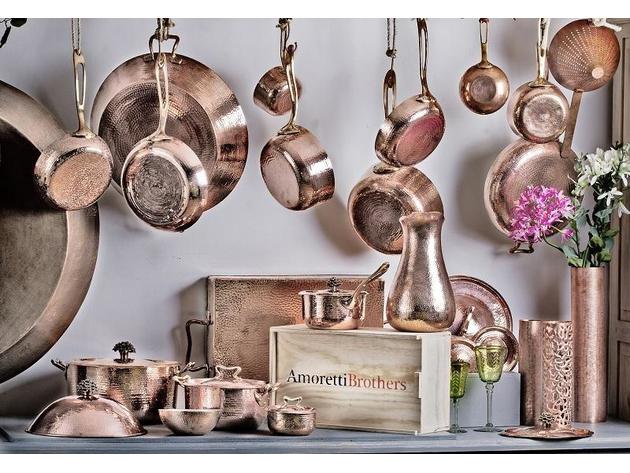 by Copper Kitchen Store
Description
Fulfilled by our friends at Copper Kitchen Store
Hand-hammered to perfection by our expert coppersmiths, the 12.5 Fry Pan is a chic cooking staple.
Its gleaming copper exterior is complemented by a double layer of tin interior lining. Applied by hand by our artisans, each layer gives the inside of the pan an even protective coat that guarantees a lasting cookware piece.
Riveted onto the sides of the copper pan are its handles. Made from cast bronze, each handle is sure to be durable enough to withstand even the largest meals. Cook to your heart's content with this reliable fry pan.
With a very high added value to the piece preferred by "Connoisseurs of gourmet cuisine" "Excellent gifts for gourmet lovers" "Specialized Chefs" "Home Decor" "Specialized Food Exhibitions" "Specialty Restaurants" And Haute Cuisine Best Romantic Luxury Anniversary Kitchen Gifts
Specs
Technical information
Diameter: 12.5"
COPPER: 2 mm
TEXTURE: Hammered - polished
HANDLES & LID: Cast Bronze
INTERIOR: Double layer of tin for extra durability
RIVETS: Copper
History
The hand-hammered copper pan is one of the most prestigious cuisine items; from its firstappearances in the luxurious villas of the Italian Renaissance, it was called the king of thepans and today its recognized as an exclusive connoisseurs instrument, in fact, itspreferred by countless chefs around the world for its effective heat distribution.
The unique handcrafted and romantic specialized copper gifts for specialized kitchens and chefs
Our Products are made under very strict quality standards that allow us to obtain pieces of art made on designs that preserve characteristics of the first appearances in the luxurious villas of the Italian Renaissance, which was also called the king of the pans and today its recognized as an exclusive connoisseurs instrument,our products have been acquired by collectors and interior decorators taking into account the investment value they have in the future.

All our pieces are made of recycled copper, we maintain a huge commitment not only to sustainability, but our philosophy also goes deeper than the impact lines. Working with recycled materials minimizes the impact on the planet, allows us to be more creative, and develops better techniques and technologies to contribute to the knowledge acquired. Improving in this way even, the education and evolution of our collaborators, clients, and partners.
Shipping
Ships to US
Expected Delivery: Dec 19 - Dec 23
Terms
Returns accepted within 30 days of shipment for orders within the Contiguous US.
This item is excluded from coupons.